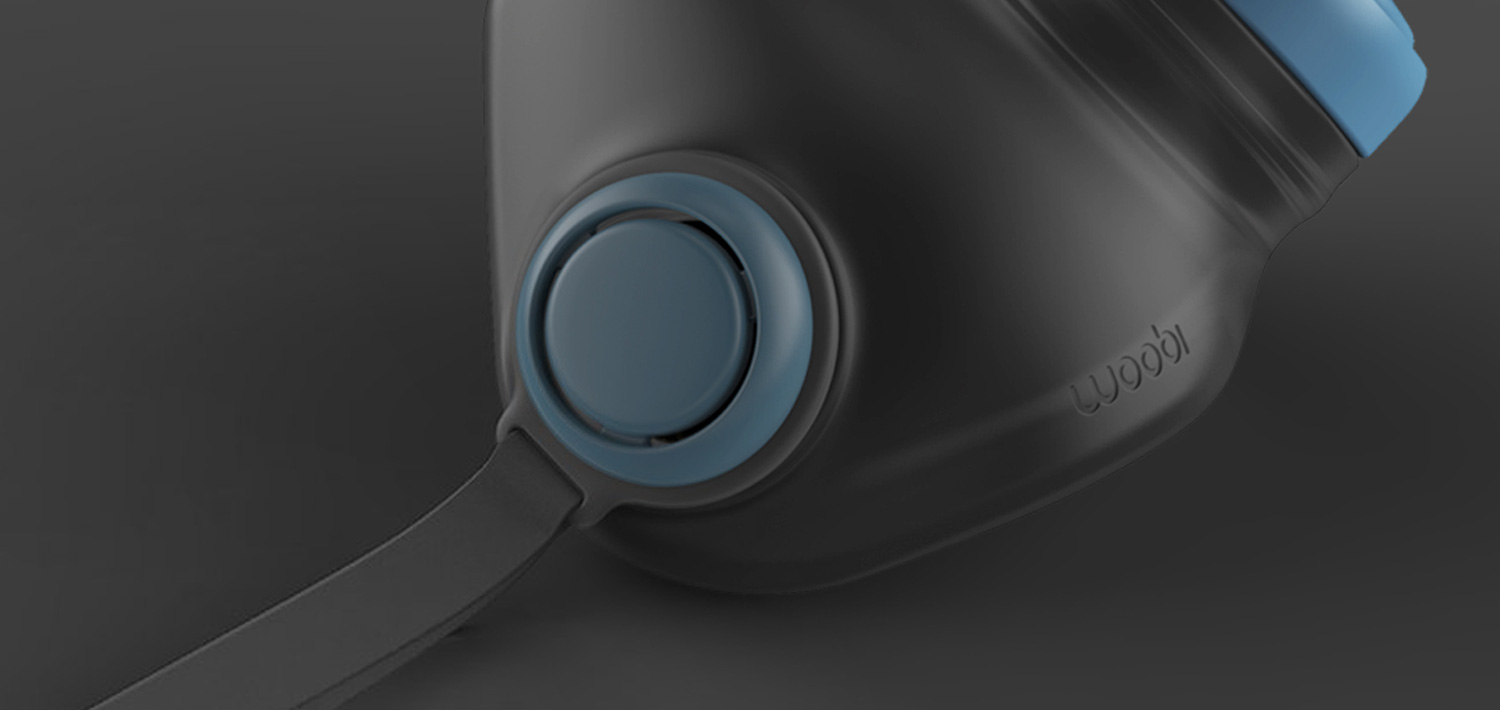 Product Description
Woobi Plus is a award-winning respirator that offers the highest filtration rates possible for a personal product of its kind.

Just like the children's version (Woobi Pop), Woobi Plus uses a micro HEPA (High-efficiency Particulate Air) filter, which is more commonly present in medical-grade or professional-use respirators.

Available in Translucent White or Dark Gray, its award-winning design solves many of the common problems of common personal masks: No more fogging glasses, no more air leaking or breathing around the mask, and no more painful loops pulling on your ears.

Its food-grade (washable) silicone body creates a fully secure seal around the mouth and nose, while the soft elastic strap hold the mask comfortably to your head. When not in use, the strap doubles as a neck strap.

It supports a variety of Aroma Pods (sold separately) that enhance the wearer's breathing experience. The Aroma Pods have a cork centre fuelled with 5 different blends of essential oils. The pod fits inside the mask's HEPA filter, providing a pleasant experience for the senses while the mask continues to protect the wearer from pollution.

Woobi Plus is tested with equivalent results of the American N95 or European FFP2 performance (Test: GB2626 & Certification: KN95). Read More Photos
---
Key Features
Replaceable HEPA Filter
Supports Aroma Pods
Anti PM2.5
Modular System
Washable body
Elastic Sports Strap
Anti-Slip Silicone Head Pad
Storage Pouch
Specifications
| | |
| --- | --- |
| Type | Personal Use (Non-Medical) |
| Certification/Tests | GB2626 (KN95) |
| Awards | D&D, Good Design Awards, iF Design Award 2018, Brands for Goof, Core77 Design Awards, IBD Innovation By Design 2016, Danish Design Awards, Index Design To Improve Life |
| Filtration Grade | N95 / FFP2 |
| Filter Type | Micro-HEPA (Replaceable) |
| PM Protection | 2.5 (95%) |
| Particles Protection | Dust, Pollen (and other allergens), Bacteria (and other germs), Wildfire smoke, cigarette smoke, and other Air Pollutants |
| Body material | Food-grade Silicone, PP Air-shield Filter |
| Size | 120 x 90 x 65 mm / 4.7 x 3.5 x 2.6 inches |
| Weight | 65g |
Popular Questions
How long can I use one filter?

Each Woobi Plus comes with 2 replaceable Micro-HEPA air filters. Each air filter's lifetime depends on factors such as the pollution in your surroundings. On average, each filter lasts 15 hours (based on average AQI 200). However, it's recommended to change them every fortnightly for hygienic reasons or when you feel that your breathing is inhibited.
User Reviews
There are pollution masks and there are Woobi masks... What a spectacular product! It's worth every cent. The aromatic pods are such a lovely and exclusive feature that no other mask or product can offer. I was tired of surgical masks that smell like old paper. Woobi makes my days happier and more pleasant - Jaqueline
You May Also Like
All brands, products, images, information, specifications and company names are trademarks™ or registered® trademarks of their respective holders. Use of them does not imply any affiliation with or endorsement by them. All information and content contained in this website are provided solely for general information and reference purposes.