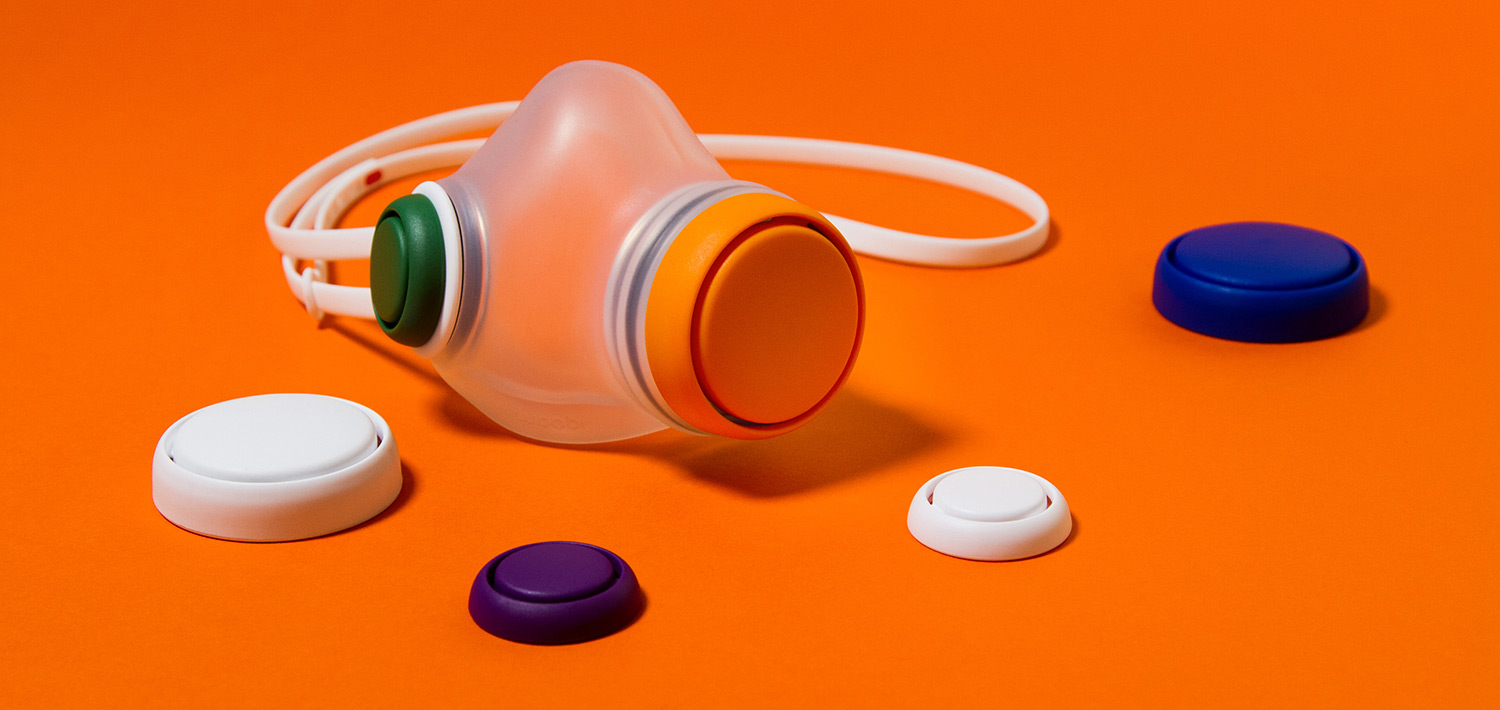 Product Description
Woobi Pop (also known as Woobi Play) is a award-winning anti-pollution mask for children with advanced HEPA filtering system capable of filtering up to 95% of dangerous airborne particulate matter (PM).

The mask is designed with a playful, educational approach that transforms a professional grade mask to fit into a child's universe.

Woobi Pop/Play is suitable for kids starting from 6 years of age, and it comes disassembled with an educational guide and stickers. Its modular system encourages children and parents to put the parts together, piece by piece, to build the finished product. This interaction helps them to understand the product's functionality and introduces a dialogue on pollution and protection. The different interchangeable coloured parts act as a simplifying tool for communication around the product's functionality and allow kids to customize the mask the way they like it, giving them a sense of ownership and autonomy over their own safety.

It works with a replaceable micro HEPA (High-efficiency Particulate Air) filter, which is more commonly present in medical-grade or professional-use respirators.

Woobi's award-winning design solves many of the common problems of common personal masks: No more fogging glasses, no more air leaking or breathing around the mask, and no more painful loops pulling on your ears. Its food-grade (washable) silicone body creates a fully secure seal around the mouth and nose, while the soft elastic strap hold the mask comfortably to your head. When not in use, the strap doubles as a neck strap.

Woobi Pop/Play is tested with equivalent results of the American N95 or European FFP2 performance (Test: GB2626 & Certification: KN95). Read More Photos
---
Key Features
Replaceable HEPA Filter
Anti PM2.5
Extra Set Colour Caps
Reusable
Educational & Fun
Washable body
Zipper Storage Pouch
Modular System
Specifications
| | |
| --- | --- |
| Type | Personal Use (Non-Medical) |
| Certification/Tests | GB2626 (KN95) |
| Awards | D&D, Good Design Awards, iF Design Award 2018, Brands for Goof, Core77 Design Awards, IBD Innovation By Design 2016, Danish Design Awards, Index Design To Improve Life |
| Filtration Grade | KN95 / FFP2 |
| Filter Type | Micro-HEPA (Replaceable) |
| PM Protection | 2.5 (95%) |
| Particles Protection | Dust, Pollen (and other allergens), Bacteria (and other germs), Wildfire smoke, cigarette smoke, and other Air Pollutants |
| Body material | Food-grade Silicone, PP Air-shield Filter |
| Weight | 65g |
Popular Questions
What's the difference between Woobi Pop and Play?

It's the same product, but the Play version comes with a playful suitcase made of recyclable material.

How long can I use one filter?

Each Woobi comes with a replaceable Micro-HEPA air filter. The filter lifetime depends on factors such as the pollution in your surroundings. On average, 1 filter last 15 hours (based on average AQI 200). However, it's recommended to change them every fortnightly for hygienic reasons or when you feel that your breathing is inhibited.
User Reviews
Very safe and extremely fun! The first time I saw a kid using one these masks, I immediately got curious and willing to buy one for my son. Feels very premium, with excellent built quality and materials. I say it's a mix of playing Lego and those science kits I had when I was younger - Mark
More photos*
*Reference only. The plastic caps colors may vary in the actual product
You May Also Like