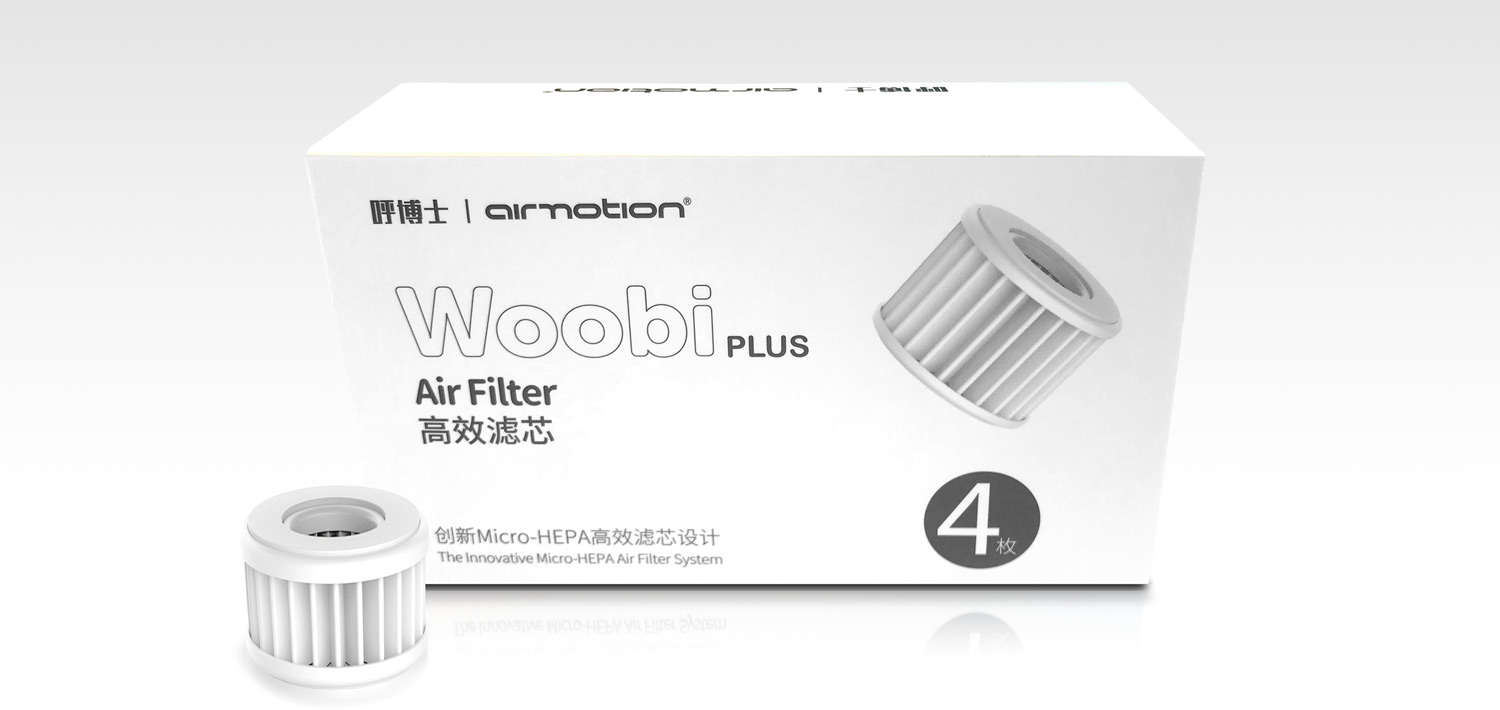 Product Description
Box with 4 original replacement HEPA filters for Woobi Plus or Woobi Pop/Play masks.

Incredibly lightweight, each filter is individually wrapped for hygiene and storage. It offers PM 2.5 (>95%) protection against dust, pollen and other allergens, bacteria, wildfire smoke & cigarettes, and other air pollutants.

Woobi air filters are tested in entirety with equivalent results of the American N95 or European FFP2 performance (Test: GB2626 & Certification: KN95).

Woobi products, including masks and filters, are manufactured by health & wellness brand OGAWA.


---
Key Features
Micro HEPA Technology
Anti PM 2.5
Woobi Plus and Pop
Ultra Lightweight
4 Filters
Original Parts
Specifications
| | |
| --- | --- |
| Filtration Grade | Equivalent of N95 and FFP2 |
| Filter Type | Micro-HEPA (Replaceable) |
| PM Protection | PM 2.5 (>95%) |
| Particles Protection | Dust, Pollen (and other allergens), Bacteria (and other germs), Wildfire smoke, cigarette smoke, and other Air Pollutants |
| Weight | 5g (Filter) |
| Warranty | Disposable / No Warranty |
Popular Questions
How long can I use one filter?

Each filter lifetime depends on factors such as the pollution in your surroundings. On average, each filter lasts 15 hours (based on average AQI 200). However, it's recommended to change them every fortnightly for hygienic reasons or when you feel that your breathing is inhibited.

Can it be washed?

No. Never wash or soak the filters in water or any other liquid. They should be replaced immediately if you accidentally make them humid or wet. If you wash the mask, make sure it is completely dry before putting back the filter and other parts
---
All brands, products, images, information, specifications and company names are trademarks™ or registered® trademarks of their respective holders. Use of them does not imply any affiliation with or endorsement by them. All information and content contained in this website are provided solely for general information and reference purposes.