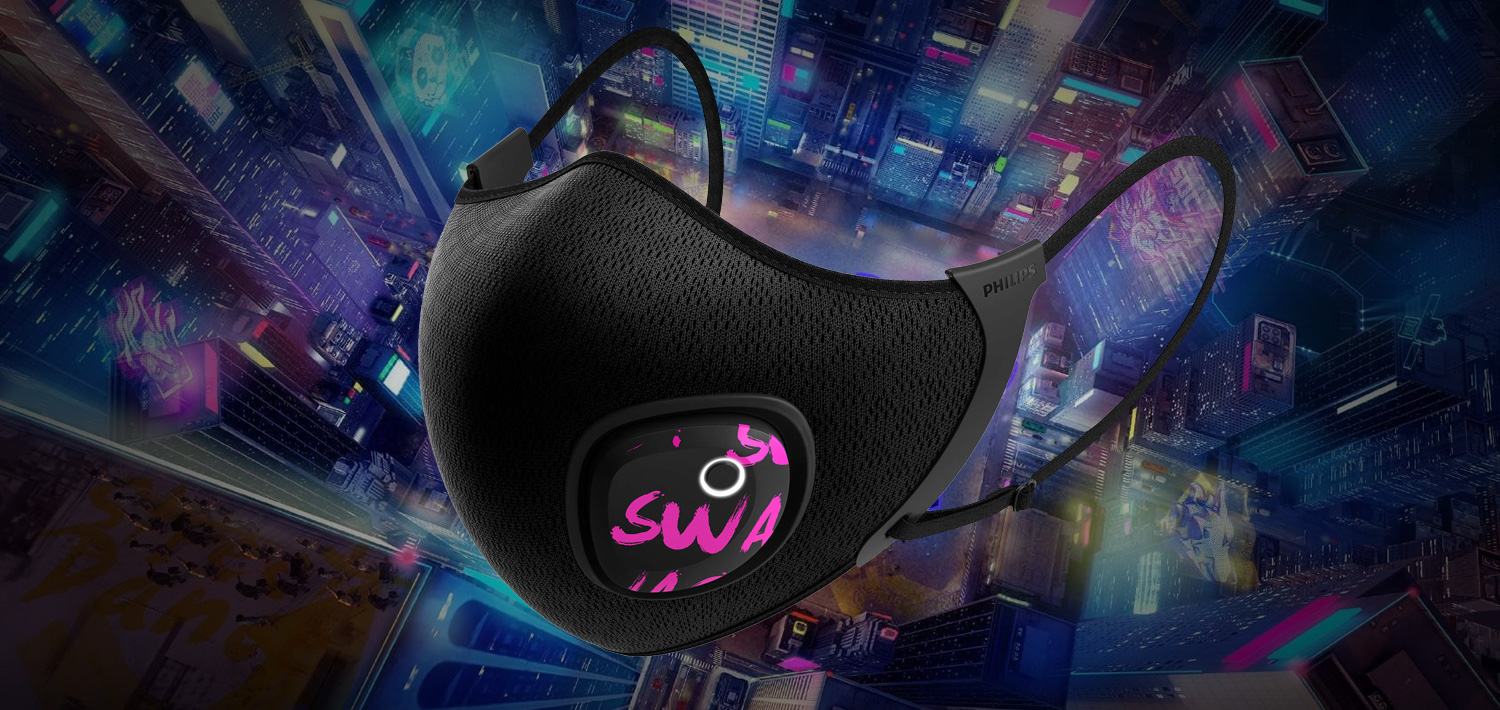 Product Description
Hip Hop-themed Special Edition of the Philips Fresh Air Mask with unique black Air Power wind system with graffiti decoration.

One of a kind, this limited edition of the Philips Fresh Air Mask is the result of a special collaboration between Philips and award-winning Hip Hop Battle TV show, Street Dance of China .

Part of the latest 6000 Series, the Philips ACM066 Fresh Air Mask redefines the level of breathing comfort via its Air Power system. Designed by an award-winning team of industry leaders, the ACM066 is the most advanced and innovative personal air-filtering product ever created.

N95-grade, the ACM066 combines cutting-edge technology, design and comfort backed by a well-known household name that needs no introduction.

Its patented Air Power wind system enables a clean, fresh and easy breathing, making the ACM066 a more-than-perfect air mask for sports or people with breathing difficulties. The efficient power and air fluid dynamics design greatly reduce exhalation resistance and improves breathing comfort. Besides facilitating your breathing, it also keeps the air inside the mask constantly cool and fresh.

Water-resistant, the mask shell can be washed every time you use it. The filter pads can be easily replaced after the recommended hours of use, based on your local AQI and how much you use the mask.

Lastly, the Philips Fresh Air Mask protection goes beyond your lungs: The mask's innovative material also protects your skin from UV light, working as a UPF 50+ sunblock for your face. Read More Photos
---
Key Features
Special Edition
Replaceable Filters
Anti PM2.5 (N95)
Washable Body
Air Power Technology
UV Protection
3 Wind Modes
Micro USB Charge
Specifications
| | |
| --- | --- |
| Model Number | ACM066/06 |
| Type | Personal Use (Non-Medical) |
| Filtration Grade | N95 |
| Filter Type | 4 Layers (Replaceable) |
| PM Protection | 2.5 (95%) |
| Particles Protection | Dust, Pollen (and other allergens), Bacteria (and other germs), Wildfire smoke, Cigarette smoke, and other Air Pollutants |
| UV Protection | UPF 50+ |
| Battery Autonomy | Approx. 4.5 hours (low speed) to 2 hours (max. speed) |
| Materials | High-Quality Breathable Meshes (Body), Aluminium (Air Module), ABS |
Popular Questions
How long can I use one filter?

Each box com with 1 replaceable filter. Each air filter lifetime depends on factors such as pollution in your surroundings and how much/how you use the mask. Depending on your local AQI, a filter can last as much as 122 hours (AQI 0 to 15) or only 8 hours (AQI 301 to 500).

Are there different sizes?

The Philips Fresh Air Mask is available in only one size that you can adjust using the straps that go behind your ears, like any other mask.

Can I use it for medical purposes?

No. All products we sell, including the Philips Fresh Air Mask, are not designed for medical, professional or industrial use, and cannot be used for such.
You May Also Like
All brands, products, images, information, specifications and company names are trademarks™ or registered® trademarks of their respective holders. Use of them does not imply any affiliation with or endorsement by them. All information and content contained in this website are provided solely for general information and reference purposes.