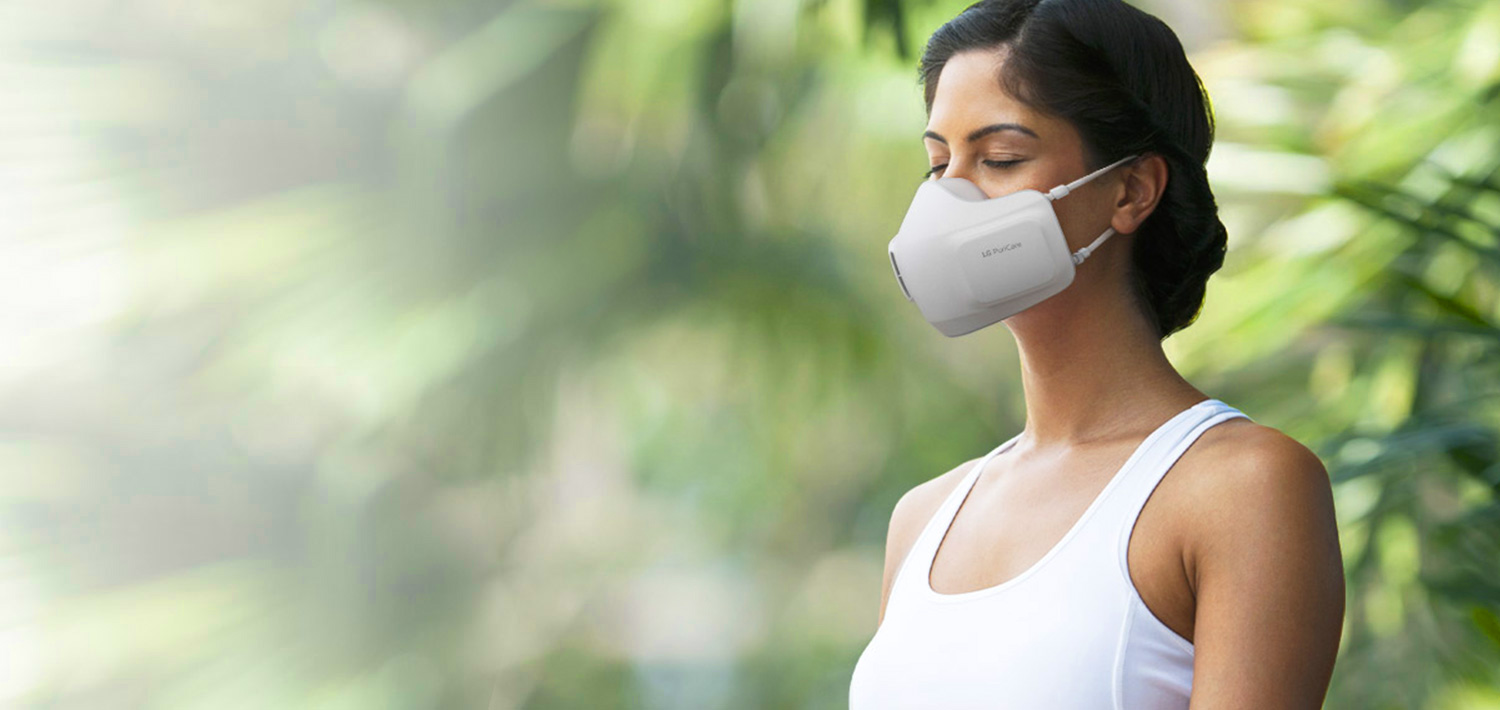 Product Description
The LG PuriCare Wearable Air Purifier (Gen 1) AP300AWFA is a cutting-edge wearable air purifier for daily use. It features dual H13 Grade HEPA filters powered by advanced technology offering up to 99.7% of air filtration.

Made of premium medical-grade materials, the LG PuriCare is an advanced air filtering system for personal use. It's the first of its kind to feature dual H13-Level HEPA Filters - the same type of filtering technology used in high-end air purifiers from LG's PuriCare product family.

With dual fans and a patented respiratory sensor, LG's Wearable Air Purifier allows users to take in clean, filtered air while the Respiratory Sensor detects the cycle and volume of the wearer's breath and adjusts the dual three-speed fans accordingly. The fans automatically speed up to assist air intake and slow down to reduce resistance when exhaling to make breathing effortless.

Powered by a rechargeable 820mAh battery, its dual fan filtering system offers up to 8 hours of use in slow speed and 4 hours of fresh air in high speed.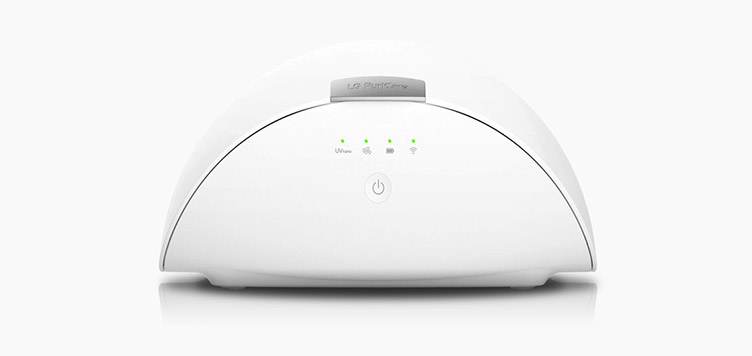 It's the first air mask that features an auto-sanitizing UV Sterilizing & Charging Case that helps maintain hygiene between uses. The case (sold separately) is equipped with UV-C lights that kills 99.9% of bacteria and harmful germs that may remain on the mask. It also connects to your Wi-Fi network and sends notifications to the LG ThinQ mobile app (Android/iOS) when the filters need to be replaced.

The mask comes with 2 HEPA filters, 10 replaceable inner covers for the internal face guard, a carrying pouch, neck band, and USB cable for charging. Read More Photos
---
Key Features
Dual Fan System
H13 HEPA Filters
99.7% Filtering
Respiratory Sensor
Washable Face Guard
Medical-Grade Materials
Specifications
| | |
| --- | --- |
| Type | Personal Use (Non-Medical) |
| Model | AP300AWFA (Gen 1) |
| Filter Type | H13 HEPA Filters (Replaceable) x2, Internal (Replaceable) Inner Cover x1 |
| PM Protection | PM 0.3 (99.7%) |
| Particles Protection | Viruses, Dust, Pollen (and other allergens), Bacteria (and other germs), Wildfire smoke, Cigarette smoke, and other Air Pollutants |
| Tests / Certifications | British Allergy Foundation, SGS, TÜV Rheinland, Korea Asthma Allergy Foundation |
| Sensor | Yes (Respiratory Sensor) |
| Battery Type | 820mAh Lithium-ion (Rechargeable) |
| Battery Autonomy | 8 hours (low speed) 6 hours (medium speed) 4 hours (high speed) |
| Charging Time | Approx. 2 Hours (Full Charge) |
| Dimensions | 6.14 × 4.33 x 2.48 in (156 × 110 x 63 mm) |
| Warranty | 1 Year |
| Origin | South Korea |
Popular Questions
How long does the battery last?

It depends on the speed you use and other factors such as battery level. A full charge can offer you up to 8 hours of use in slow speed and around 4 hours using maximum speed mode.

Does it filter exhaled air?

Yes, the replaceable Inner Covers (Type B) work as a filter for the air you exhale, blocking droplets, fluids and particles in general. The LG PuriCare offers you the best of both worlds: active air filtering comfort with clean air in & out.

Are there different sizes?

The LG PuriCare Wearable Air Purifier is available in only one size. The straps can be adjusted behind your ears, and the box also includes a strap extender for extra fitting sizes.

How often do I need to replace filters?

You should replace the HEPA filters every 30 days or when the UV Charging Case (sold separately) sends you mobile notifications.
You May Also Like