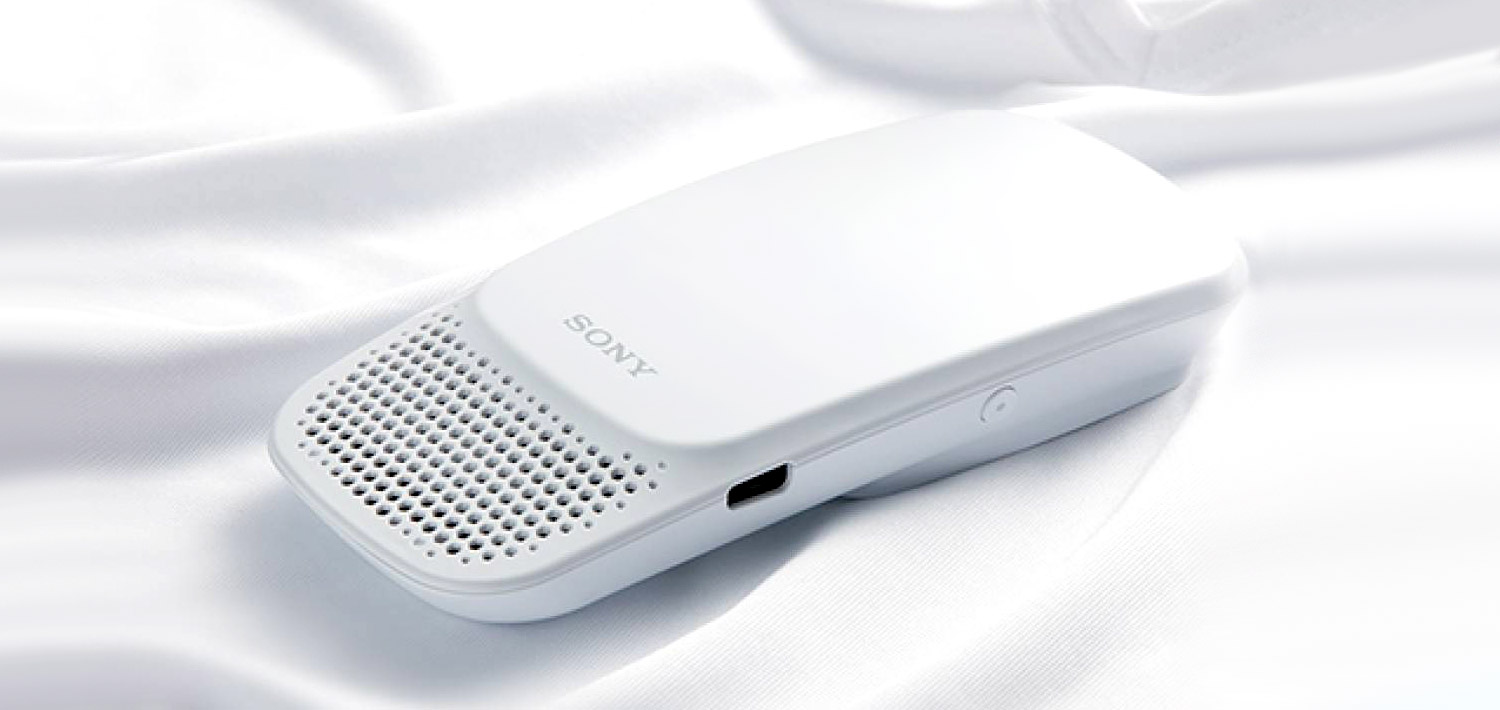 Product Description
The Sony Reon Pocket 2 Wearable Air Conditioner is the newest and upgraded version of the original Reon Pocket personal air conditioner for indoor and outdoor use.

With twice the cooling performance and heat absorption of the previous model, the new Reon 2 now features a SUS316L stainless steel contact pad that directly draws heat from your skin and transfers cooler temperatures more easily to the skin.

Controlled via Bluetooth with mobile app for iOS* and Android, the Reon Pocket can be adjusted to keep you cool during the summer or warm during the winter with its dual WARM & COLD mode that makes it useful all-year-round.

The Reon Pocket 2 must be used attached to one of its exclusive T-shirts (sold separately) available in small, medium or large sizes or with the Neckband (also sold separately).

Besides the standard Reon t-shirts, Sony has also partnered with a number of fashion brands to make Reon-compatible clothing. Le Coq Sportif, Descente Golf, Edifice, Estnation and Musingwear are some of the fashion brands that are already offering shirts that can accommodate the wearable air conditioner.

Charged via USB-C plug, the new Reon Pocket 2 is now also sweat resistant so that it can also be worn during various forms of light exercise and outdoor activities.

*Note: Smartphone app for iOS requires Japanese App Store ID.

Read More Photos
---
Key Features
Cool or Warm Mode
Lightweight Design
Sweat resistant
4 Temperature Levels
Smartphone App
USB Power Charge
Specifications
Type
Poersonal Air Conditioner
Model
Reon Pocket 2 (RNP-2)
Modes
COOL (4 Levels) and WARM (4 Levels)
Air Filtering
No
Operating Temperature Range
5℃-40℃
Control
Smartphone App for iOS* and Android
iOS app requires Japanese App Store ID
Connectivity
Bluetooth® 5.0 Low Energy
Power Input Method
USB Type-C
Battery Type
3,350mAh Li-ion (Rechargeable)
Size
54 mm x 20 mm by 116 mm (Width x Height x Depth)
Weight
92g
Material
ABS (Body), SUS316L Stainless Steel (Pad)
Warranty
12 months
Origin
Made in Japan
Popular Questions
How does the Reon Pocket work?

Differently than traditional air conditioners, the Sony Reon Pocket uses thermoelectric technology to cool (or raise) your body temperature when you keep it in contact with your body. Taking advantage of the Peltier effect (a concept in thermodynamics), temperature difference is created by applying a voltage between two electrodes connected to a semiconductor material.

Does it cool down my whole body?

The lowest setting will offer a gentle cooling around the the device. Increasing the settings to maximum level, a larger area on your back will experience a stronger cooling sensation. For better results, Sony recommends that you use the Reon Pocket with the Reon T-Shirts instead of the neck support.

The app is not available in my country

If you cannot find the app in your country store, contact us for instructions on how to download the Sony Reon app for iOS or Android. NOTE: Unfortunately, assistance can only be provided to existing ShopMask customers.
You May Also Like
---
All brands, products, images, information, specifications and company names are trademarks™ or registered® trademarks of their respective holders. Use of them does not imply any affiliation with or endorsement by them. All information and content contained in this website are provided solely for general information and reference purposes.