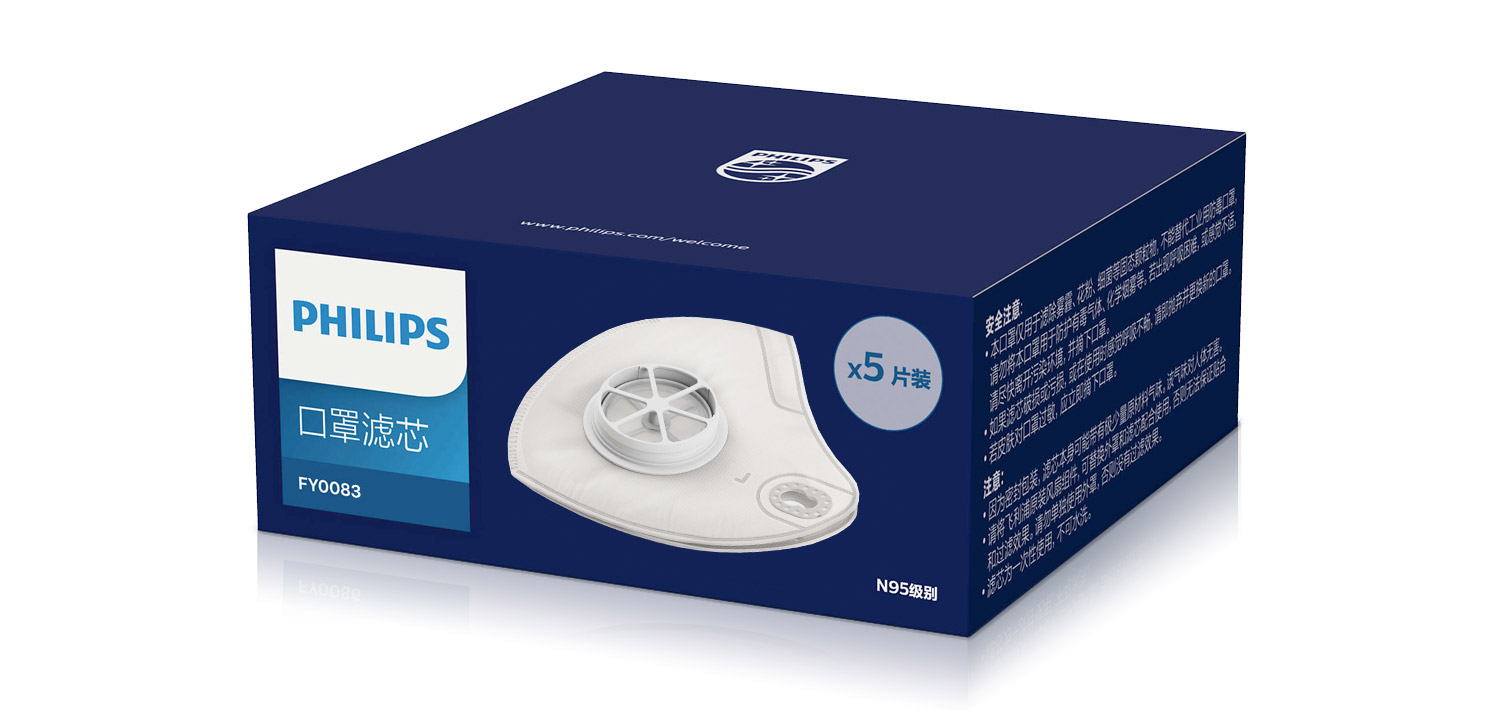 Product Description
Box with 5 replacement filters for Philips Fresh Air Mask Kids Edition (model ACM033). It offers N95-grade¹ protection that can fully protect against smog, car exhaust (only particles), pollen², bacteria, allowing you to enjoy fresh and clean outdoor air.

Each filters, independently wrapped, offers a service life is up to 104 hours³ depending on usage and on your local AQI (see chart).

¹ This data is calculated by Philips internal laboratory based on third-party test report. Refer to the standards of the National Institute of Occupational Safety and Health and Philips Corporation for testing and certification by third-party laboratories.

² The pollen particle size ranges from 15 to 200 microns (E. Pacini, Encyclopedia of Ecology 2008). N95 filter has the lowest efficiency (> 95%) at the most permeable particle size (> 0.1 <0.3 microns)

³ This is the recommended cumulative duration calculated by Philips internal laboratory, and the filter replacement time can be changed according to personal usage habits. Read More Photos
---
Key Features
Easy to Replace
Anti PM2.5 (N95)
Box with 5
Up to 104 hours
Philips Quality
Original Parts
Specifications
| | |
| --- | --- |
| Model | FY0083 (Series 3000 / Kids) |
| Filtration Grade | NIOSH N95 |
| Filter Type | 4 Layers |
| PM Protection | 2.5 (95%) |
| Particles Protection | Dust, Pollen (and other allergens), Bacteria (and other germs), Wildfire smoke, Cigarette smoke, and other Air Pollutants |
| Service Life | Max. 104 hours (AQI 0 to 50) to 7 hours (AQI 301 to 500) |
| Warranty | Disposable / No Warranty |
Popular Questions
How long does a filter last?

Each box comes with 5 independently-wrapped filters. Each filter lifetime depends on different factors such as air quality/pollution and how much (and how) you use the mask. Depending on your local AQI, a filter can last as much as 104 hours (AQI 0 to 50) or only 7 hours (AQI 301 to 500).
You May Also Like
All brands, products, images, information, specifications and company names are trademarks™ or registered® trademarks of their respective holders. Use of them does not imply any affiliation with or endorsement by them. All information and content contained in this website are provided solely for general information and reference purposes.