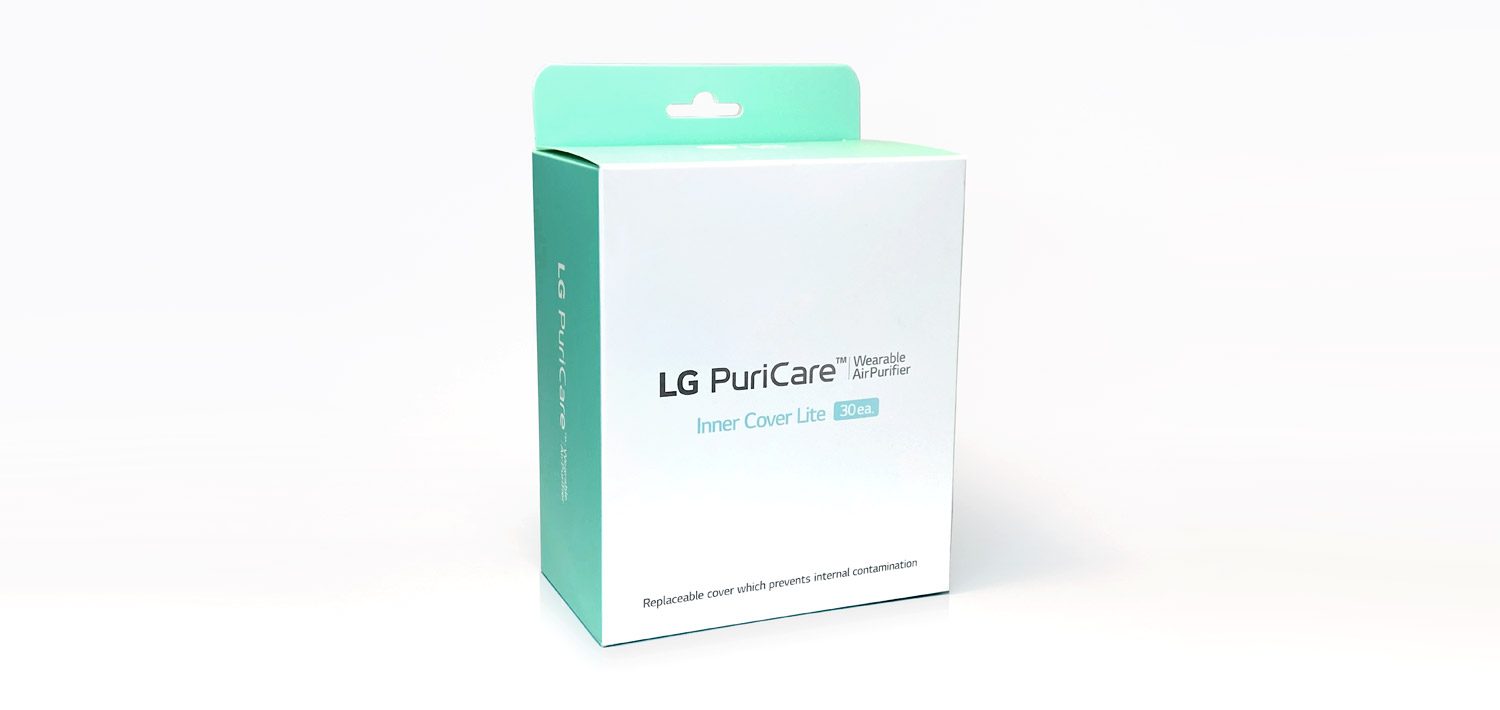 Product Description
Box with 30 Inner Covers for LG PuriCare Wearable Air Purifier 1st Gen. The original replaceable covers absorb the moisture of exhaled air, preventing internal contamination and keeping a good hygiene inside the mask.

Type A (now called "Lite") is ventilated hygienic cover that helps preventing internal contamination. It's recommended for sports, walking and outdoor activities in general.

Type B is fluid resistant. It filters particles and exhaled air before it goes out through the port located on the bottom of the unit, making it more appropriate for closed areas and indoor use.

NOTE: Type A comes with 30 pieces grouped in 5 packs of 5. Type B comes with 30 pieces grouped in 3 packs of 10.

Easy to replace, the inner covers stay between the internal face guard and the respirator body, serving as a protection between the mouth and the mask. They should be discarded and changed every 1 or 2 days. Read More Photos
---
Key Features
30 Pieces per Box
Hygienic
Disposable
Anti-Allergic
Original Parts
Easy to Replace
Specifications
Model
PFPAZC30
Suitable For
LG PuriCare Wearable Air Purifier 1st Generation (AP300AWFA)
Box Contents
30 Pieces
Types
Type A (Hygienic, Ventilated)
Type B (Fluid Resistant, Non-Ventilated)
Material
Anti-Allergic Non-Woven Fabric
Box Dimension
130 x 155 x 55mm
Warranty
Disposable / No Warranty
Origin
South Korea
Popular Questions
Should I use Type A or B?

Type A (now called Lite) is ventilated and recommended for outdoor activities where social distancing can be safely maintained. Type B is fluid resistant and filters your exhaled air before it goes out through the air port, making it appropriate to use in closed or indoor spaces.

How often should I replace the covers?

It is recommended that you replace the covers every couple of days to keep a good hygiene inside the mask.

What's the difference between the Lite and the old box?

Just the new packaging. They're the exact same inner covers in a larger box.
You May Also Like
---