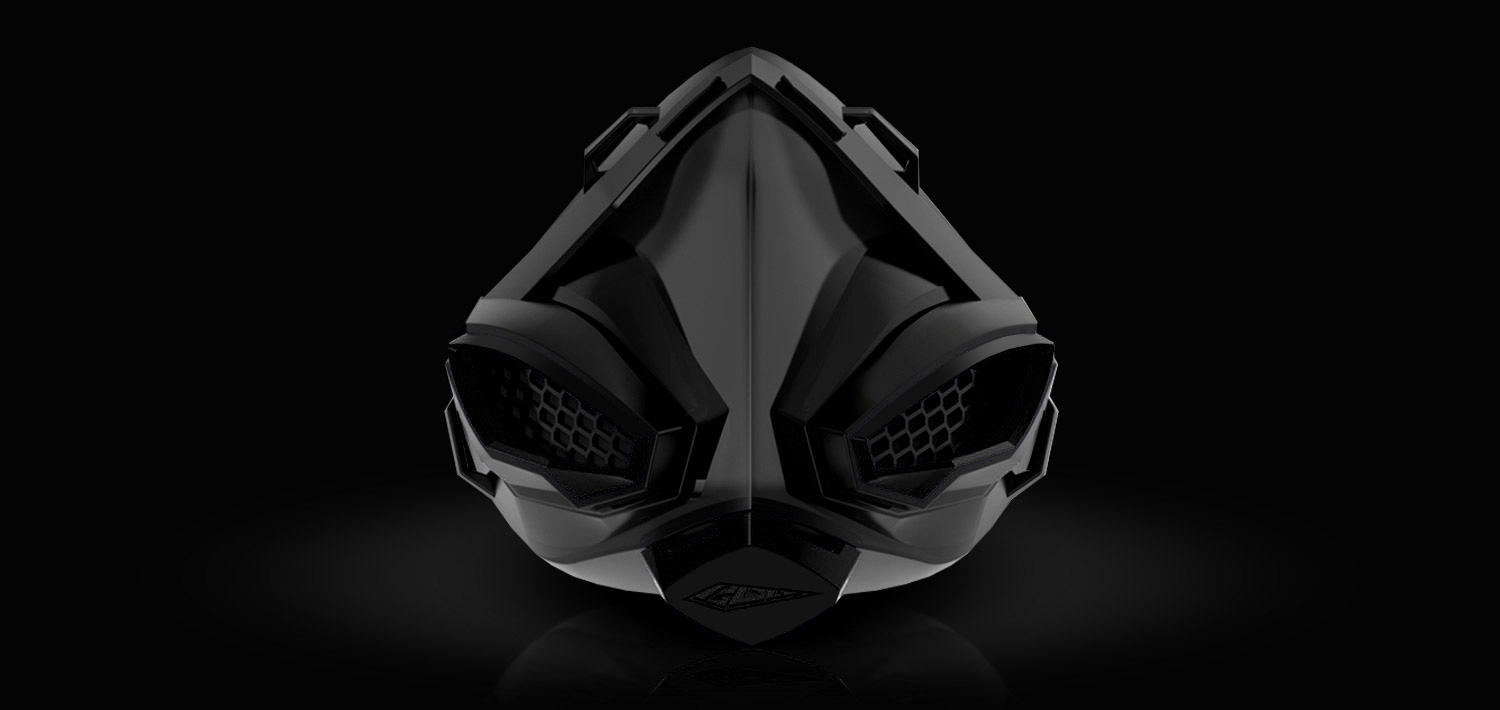 Product Description
Sphyrna (Greek) is the scientific name for hammerhead sharks, but the similarities between the cartilaginous fish and this advanced sports respirator go beyond aesthetics.

Blovx Sphyrna is the ultimate training respirator, specially designed for high performance sports and athletes who need a single solution for both daily use and sports training.

Specially designed with sports in mind, the Sphyrna is a "dual-effect" respirator that offers advanced air filtering and simulated high-altitude training by adjustable restriction of air intake. It allows a shortened exercise time which, in turn, improves muscle endurance, cardiopulmonary function, and red blood cell oxygen carrying capacity.

Its sealing system is made with Dow Corning imported medical silicone ​​as raw materials (the same material used for high-quality baby pacifiers). No adhesive is added during the manufacturing processing, and no toxic and harmful substances are produced.

The filters are made with Hollingsworth & Vose patented Technostat® Plus electrostatic electret material imported from the UK, and tested by the authoritative American air fluid laboratory Nelson Labs.

The respirator body itself is made of high quality silicone material, which does not directly touch the face except for the supporting structure.

Shortlisted for the 16th Asian Golden Point Design Award and officially used by many sports and soccer clubs, the Blovx Sphyrna is only training mask in the world that offers air intake restriction training.

With its innovative design and superior filtering technology, no other respirator offers a more balanced combination of efficiency, style and comfort. A must have for athletes of all kinds, the Blovx Sphyrna is the perfect air filtering system for endurance and outdoor sports. Read More Photos
---
Key Features
Adjustable Air Intake
Anti PM2.5 (99%)
Made for Sports
Fully Washable
360° enclosure
Lightweight Design
Specifications
| | |
| --- | --- |
| Type | Dual-Use, Personal & Training Respirator (Non-Medical) |
| Filtration Grade | PM0.5 (99.97%) |
| Filter Type | Multi-Layer Hollingsworth & Vose (UK) Technostat® Plus Electrostatic Electret (Replaceable) |
| Tests and Certifications | GB/T32610-2016, GB 2626-2006, RoHs, FC, CNAS, Nelson Labs |
| Particles Protection | Dust, Pollen (and other allergens), Bacteria (and other germs), Exhaust, Wildfire Smoke, Cigarette Smoke, and Other Air Pollutants |
| Box Contents | Mask, Pair or Neoprene Straps, Pair of Filters, Instructions |
| Mask Size | 6 x 5.5 inches (folded) |
| Material | High Quality ABS+PC, Dow Corning Silicone (Seal), Neoprene, Skin-Friendly Materials |
| Weight | 148g (including straps) |
Popular Questions
How can I adjust the air intake?

Altitude training simulation can be achieved by configuring the 5-stage adjustable air ports located on both sides of the mask (Please see Reference Photo). Each intake port can be independently adjusted in 5 different settings each, which allow 10 different modes (500ft to 22000ft) of simulated air intake respectively.

How many filters are included?

Each box comes with 1 pair (set) of filters. Additional filters can to be purchased separately, but you can also make your own by purchasing high-quality filtering fabric and cutting them in the proper shape.
You May Also Like
All brands, products, images, information, specifications and company names are trademarks™ or registered® trademarks of their respective holders. Use of them does not imply any affiliation with or endorsement by them. All information and content contained in this website are provided solely for general information and reference purposes.