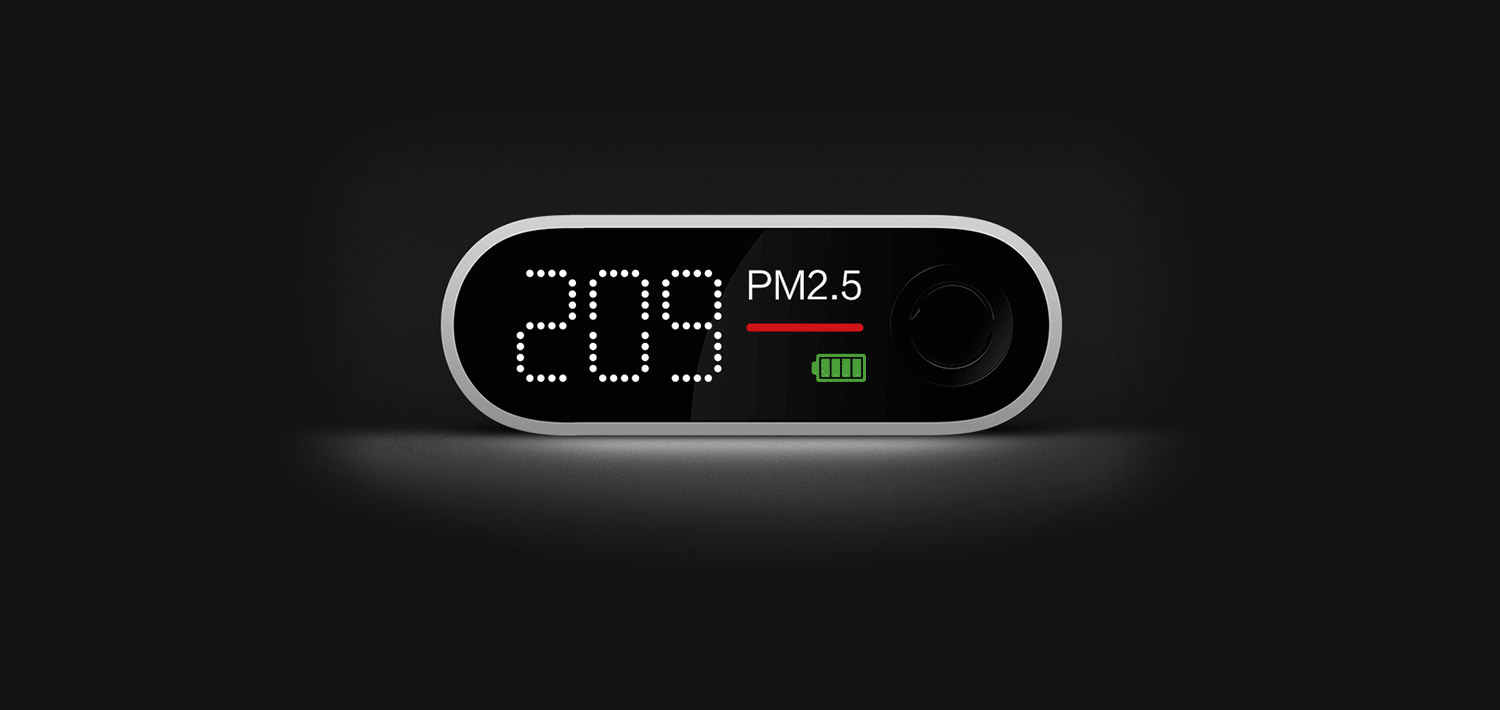 Product Description
Air quality directly at your fingertips. The Smartmi PM 2.5 detector is a portable air quality monitor for your home, office, baby room or school.

Compact and portable, it offers ultra accurate real-time detection of PM 2.5, pollution, smoke, dust, gas and other air pollutants that are invisible to the naked eye.

The Smartmi PM 2.5 detector is an accurate test for your local environment. Traditional air quality forecasts are based on scattered test points, and don't accurately represent your local air quality. Even if the forecasts indicate a good air quality, our houses, cars, and shopping centers would still be affected by exhaust fumes or second-hand smoke. It's important to remain vigilant at all time and take timely readings of the air we breathe.

It has a suite of personalized reminders with green, orange and red digital color indicators. When the green light is shining, that means the air quality is suitable for outdoor activities; when it's orange, that means there's light pollution that could be potentially dangerous to sensitive groups, and when it's red for medium/heavy pollution, turn on the purifier or take other protective measures.

The Smartmi PM 2.5 Detector won't leave tiny particles undetected, bringing that little bit of extra security to every breath. Read More Photos
---
Key Features
Precision Laser Sensor
Portable Design
Color Digital Screen
Easy to Use
Real-Time Accuracy
USB Power Charge
Home, School, Office Use
Rechargeable
Specifications
| | |
| --- | --- |
| Technology | High Precision Laser Sensor |
| Detection | Smog, Pollution, Smoke, Dust, Industrial Waste, Gas, Automotive Exhaust, Second-Hand Smoke |
| Power Input Method | Micro USB |
| Battery Type | 950mAh Li-ion (Rechargeable) |
| Size | 90 × 60 × 12 mm |
| Weight | 0.09kg |
| Material | ABS (Body) |
| Warranty | 12 months |
Popular Questions
How does it work?

The Smartmi PM2.5 Air Monitor operation is very simple. Press the power button once to turn it on. The current PM2.5 measurement will show after a couple of seconds. Pressing the button a few more times will reduce the display brightness and save battery life. Pressing the button one more time will turn off the device.

What does the Green/Orange/Red indicator mean?

The GREEN indicator means the current PM2.5 levels are low (good). ORANGE means the level is moderate, and a RED indicator means the current levels are high and you should either user an air filter or move to another place.
You May Also Like
---