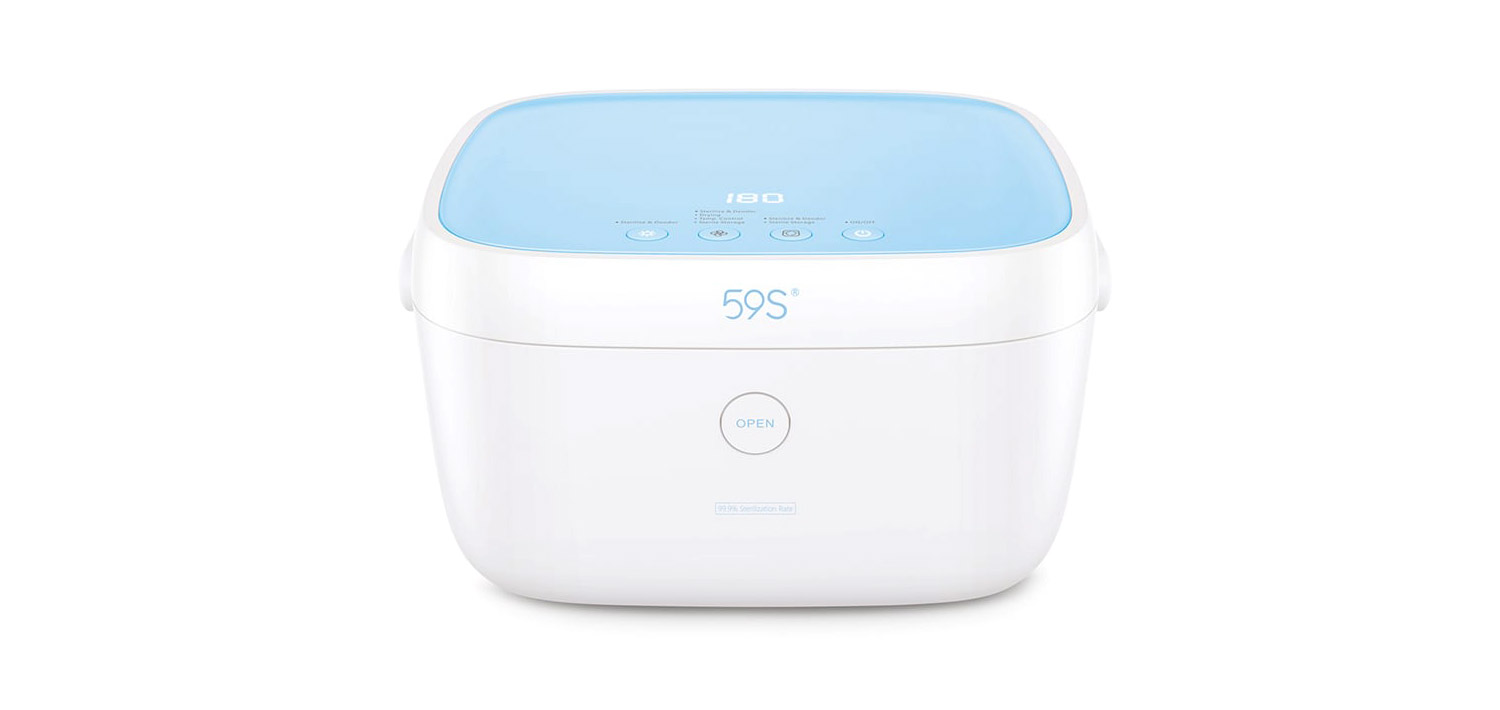 Product Description
59S T5 is a portable UVC LED Sterilizing Box for multi purpose use. It uses 40 special ultra violet LEDs to provide a sterilization rate of 99.9% in 3 minutes, effectively killing all viruses, bacteria and other impurities of objects placed inside the box. It also eliminates odour of face masks and any other kind of object by completely decomposing the odour molecules.

The 59S T5 works with a power adapter, but it also has rechargeable internal batteries, making it the perfect companion to carry in the car, to picnics, the beach, etc.

UVC light has been professionally used in the sterilization of medical appliances, food and water since the mid-20th century by effectively destroying their DNA & RNA. It is widely used in medical environment with its high disinfection rate. UVC LED reproduces the UVC light using LED beads, a 100% clean and energy efficient technology. Read More Photos
---
Key Features
UVC Technology
Portable
Eliminates Odour
99.9% Sterilization Rate
100% Safe
Rechargeable
Specifications
| | |
| --- | --- |
| Model | 59S T5 |
| Technology | UVC LED Light |
| Cleaning Application | (99.9%) Germs, Fungi, Bacteria, etc. |
| Certifications | FDA, SGS, CE, FCC, ROHS, Etc |
| Disinfection Time | 3 min |
| LED Quantity | 40 |
| LED Wavelength | 260-280nm |
| Power Input Method | 110/200V Power Plug |
| Battery Type | 7.4V 3000mAh 22.2Wh (Rechargeable) |
| Size | 302 x 269 x 154 mm |
| Weight | 2.0kg |
| Colors Available | Blue/Pink |
| Warranty | 12 months |
Popular Questions
Does UVC light technology have any side-effects?

No. UVC technology has been around for decades. Today's products are totally safe to use and the technology do not pose any risk for both the user and the products being sanitized.

How does Ultraviolet (UVC) technology work?

UVC has been proven to kill up to 99.9% of germs. Many hospitals use UV-C to sanitize rooms, medical tools, sinks and more. UVC light damages the DNA and RNA of germs eliminating their ability to reproduce and enhances killing efficiency and odour elimination.
You May Also Like
---
All brands, products, images, information, specifications and company names are trademarks™ or registered® trademarks of their respective holders. Use of them does not imply any affiliation with or endorsement by them. All information and content contained in this website are provided solely for general information and reference purposes.